+--+--+--+--+--+--+--+--+--+--+--+--+--+--+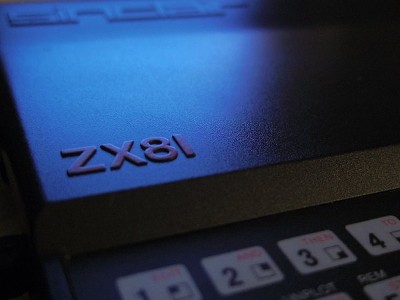 I won't say a lot about these computers. There's plenty of information out there on the web if you want to learn more. But to cut a long story short, these are cheap 8-bit computers built very much to a budget and released in (you guessed it) 1981. Based on the earlier ZX80, by shrinking the logic of that earlier machine into a ULA and including just a few other chips: Z80 processor, ROM chip and 1K of memory (2K in the US Timex version), providing no sound, colour or a "real" keyboard, this was as cheap as a computer could be made in 1981 (about £50 in kit form or £70 fully assembled. That's £196.00 and £274.40 in today's money). The price of home computer components would soon rapidly fall, quickly making these systems obsolete and discontinued by 1984, but I suspect they had a much longer life beyond the early 80's as cheap, second-hand learning computers for kids and teenagers with limited money to spend.

(Incidentally, my dad bought a ZX81 around this time to learn how to code in basic. He volunteered to run the school's new computing department, even though he was actually a chemistry teacher. So this was a time before IT / computer science teachers even existed in some schools!)

At the time, these basic barebones home computers were often compared to more impressive machines and judged to be wanting. But really that was missing the point. The ZX81 was designed to be affordable and accessible to as many people as possible (and make Sinclair plenty of money too, of course). A gateway drug to computing, if you like. They were the cheapest computer available aimed not just at hobbyists, but at the general public. Clive Sinclair envisaged a world in which we would all become programmers. It would be this ethos that created the environment for an army of skilled, largely self-taught bedroom coders to kick start a fledgeling UK video game industry. American consumers disagreed however, and most did not see the potential of a cheap computer that could bring programming to the masses. Instead, comparatively wealthier Americans would pay more money for fuller featured computers with established "professional" software ecosystems. It was thought that people didn't want to code their own programs and to be fair, this turned out to be true. We are living in the future as they predicted it would be, a world of computer users but not computer coders.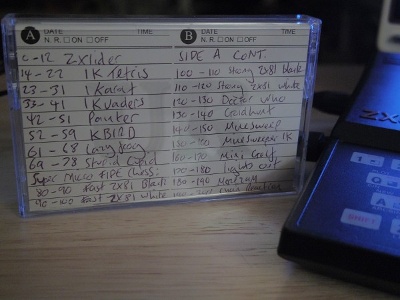 Whatever your opinion, I don't think you can deny the aesthetic qualities of these little machines. I've always loved the look of Sinclair's stuff (before they were bought out by Amstrad). Nearly 40 years after their first release, ZX81s still look like something straight out of the future. Who knows, maybe it was from the future. After all, the membrane keyboard, much derided in it's day, is closer to the touch screen keyboards of today's tablet computers in function than any of the "real" keyboards found on more prestigious micros.

When covering the computer in retrospectives, Americans can be particularly sniffy about the capabilities of the ZX81 and consequently, overlook the fact that this humble little computer is experiencing a bit of a renaissance right now. We might be living through the best period to actually own one of these things. So what can be done with less 1K of memory? The answer, most would say, is not very much. But some skilled programmers have taken it upon themselves to find out.

Yes, really, even the unexpanded 1K model has attracted coders looking for a challenge. This is a golden age of new ZX81 software. Don't believe me? Let's load up a some games on a cassette tape for old times sake and take a look at a few of my favourite 1K games from the last few years:

Note: I have tested all of these games on a real ZX81. But for convenience, I will mostly be using readily available screenshots for illustrative purposes.