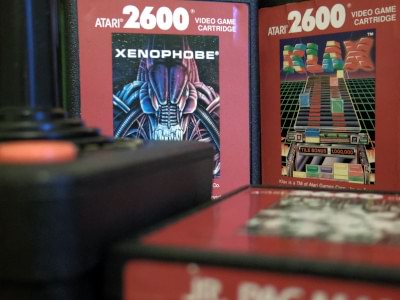 The Atari VCS is known to most people for the heady days of its 1977-1983 heyday. Important though it is, that's not really the era of the console's history that most interests me. Instead, I'm essentially dedicating this corner of my website to reviewing only the games released in the 2600's Indian summer years of post 1986.

For reasons beyond me, I've always had a soft spot for cost reduced console redesigns, as well as a fascination for limit pushing games released late in a system's lifespan. The Atari 2600 Jr tickles both of those fancies quite nicely.

But firstly, before we get to the history lesson and the reviews, let me say that the Atari 2600 Jr is a damn fine looking console. With its clean lines, brushed steel fascia and rainbow accent, it bleeds cutting edge mid-80's futurism. It's a truly beautiful piece of industrial design. Old timers might prefer the Wood grain look of the original, but for me this is the Atari 2600 console to own.

Many people don't realise that the task to redesign a cheaper, sleeker looking Atari 2600 began in 1982, with the first production units shipping in 1984, before shortly being shelved by Atari in the wake of Jack Tramiel's takeover of the company. However, Atari later chose to re-release the system in 1986 following Nintendo's revitalisation of the home video game market, with the aim of carving out a niche as a budget competitor to the more advanced and expensive NES and Sega Master System consoles. To do so, Atari likewise re-introduced a choice selection of their vast library of classic arcade titles. While most of these so called "red label" games are simple re-releases, Atari knew such a strategy wouldn't be sustainable in the long run. No, offering consumers an instant library of well known but now quite dated games would not be enough.

To really compete, they would need to program new titles that could offer up game play experiences similar to the increasingly complex games available from new kids on the block Sega and Nintendo. Old frenemies Activision, Absolute Entertainment (itself comprised of ex-Activision staff), Epyx and Salu Ltd. were also called upon to add to the system's late era library. Many of these games are unique and exclusive titles and can be played nowhere else. For the most part, they are also fairly cheap and plentiful to collect, which is a welcome rarity in today's retro gaming climate of infinite price inflation.

As I've noted elsewhere before, here in the UK consoles never really made their presence felt until the early 90's. But I think there's an argument to be made for the Atari 2600 Jr, with its relatively low price point and huge library, to be considered among the first consoles to properly challenge the stranglehold home computers had over the games industry here. The system's simpler games appealed particularly to younger kids just getting into gaming in the late 80's. Evidently, Atari must have been doing something right, because the console would remain in production until 1992! (the same year the Super Nintendo arrived on our shores! Not too bad for tech dating back to the 70's). Some shops were still selling the console for £31.99 as late as 1993. That's almost the same price as a single Sega Master System game.

As for my own history with the Atari 2600 Jr, I often played this console at a friends house. He eventually sold it to buy a Sega Master System and it would be years before I would buy a 2600 console of my own. Despite this, I did actually grow up playing a lot of Atari 2600 games. I had a TV Boy, a cheap pirated clone console with 127 built in games (but that's a review for another day).

Did Atari and their allies succeed in keeping the 2600 relevant? Read on to find out...